A well-balanced diet provides all the nutrients that are required for the growth and repair of the body. A healthy diet has all the nutrients like carbohydrates, proteins, fats, vitamins, minerals, which help in staying healthy and also boost immunity. And the best way to get all these essentials is by eating various quick and nutritious recipes for a healthy living.
Along with a healthy diet, a balanced diet helps in maintaining weight. The best way to stay healthy is to heal through food. Quick and nutritious recipes make it easy to follow a balanced and healthy diet.
Some Quick And Nutritious Recipes You Can Try
1. Pumpkin Soup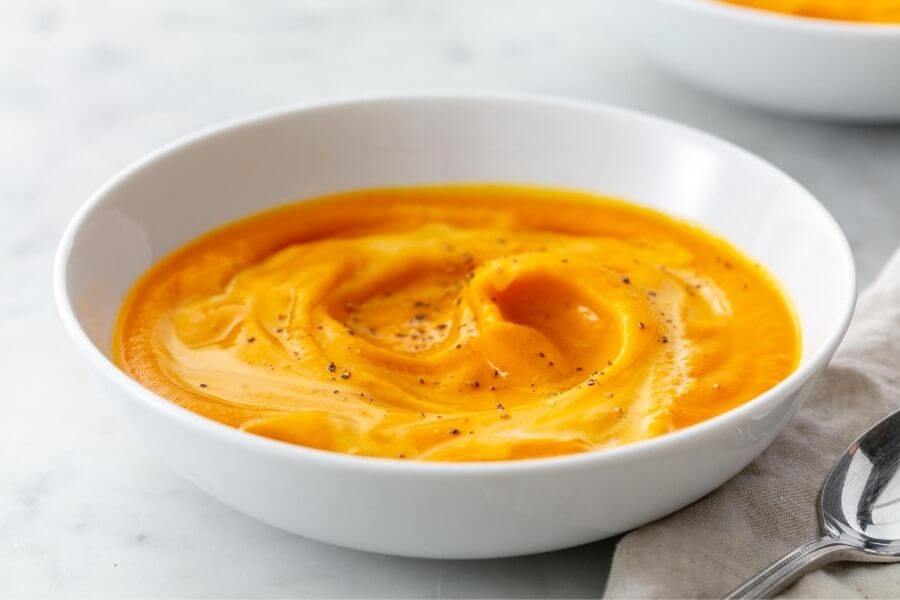 Pumpkins are an excellent source of beta-carotene, a powerful antioxidant. Pumpkins are good for the heart. It has fiber and contains numerous antioxidants, vitamin C, and vitamin E. This superfood may help to reduce chronic diseases, cataracts, and other health diseases.
Yield: 3 – 4 servings
Ingredients
250 g red pumpkin sliced
1 medium sliced onion
2 or 3 cloves
A small piece of ginger
1 cup of coconut milk
5 tsp oil
1 cup of water
Salt as per taste
Roasted cumin powder
Black salt as per taste
Method
Wash and remove pumpkin's skin. Slice it.
Peel the onion and slice it.
Add oil in a cooking-pot (kadhai), add the cloves, saute for a minute.
Add onion and saute for a bit.
Now add pumpkin slices and cook well.
Allow cooling.
Grind it in a mixer. Add 1 cup of water.
Transfer it into a cooking-pot and boil the same.
Add roasted cumin powder, black salt, and coconut milk.
Mix well, shut down the flame, and then take the pot down.
Do not boil after adding coconut milk.
2. Methi Sprouts Soup
Methi sprouts are a rich source of dietary fiber and proteins. It is high in vitamin B, minerals like manganese, iron. It helps to promote proper digestion. The nutritional profile of methi sprouts suggests including it in our diet for good health. It regulates blood sugar levels in the body. It also battles high cholesterol levels.
Yield: 2 servings
Ingredients
1 handful methi sprouts
1 ripe red tomato
Salt
Black salt
Black pepper powder
Roasted cumin powder
Lime juice, as per your taste
Pudina/coriander leaves, for garnishing
Method
Take a saucepan, add half a cup of water and add the methi sprouts—Cook for 5 minutes.
Now boil water in another saucepan. Put tomatoes in it, cover, and keep for 5 minutes.
After 5 minutes, take out the tomatoes and run through cold water.
Remove the skin and chop them. Blend to a smooth puree.
Make a puree of the sprouts.
Mix the tomato and sprouts puree. Boil it for 5 minutes.
Add the seasoning and boil for one minute, except lime juice.
Switch off. Stir in the lime juice.
Transfer to a soup bowl. Garnish it with pudina/coriander leaves/sprouts.
Serve the soup hot.
3. Broccoli Paratha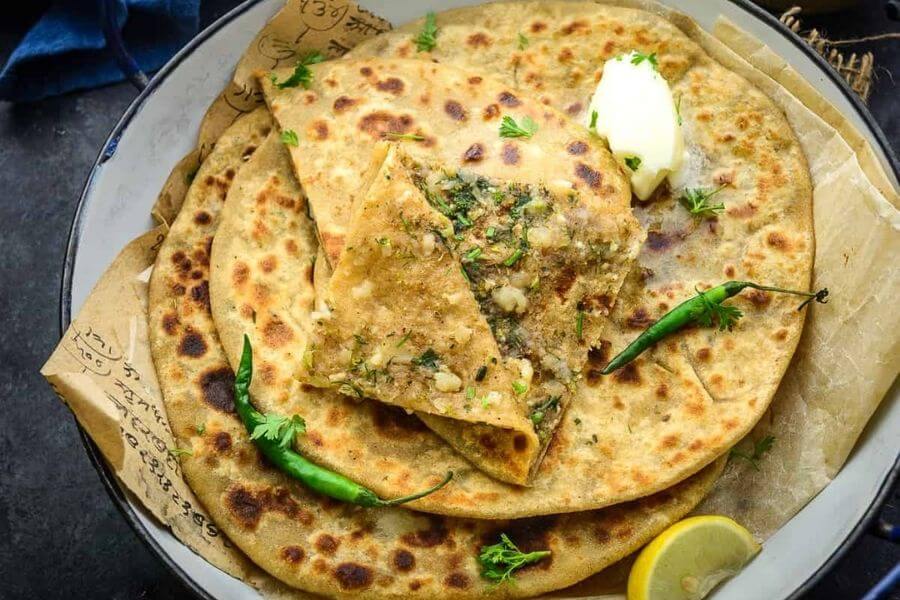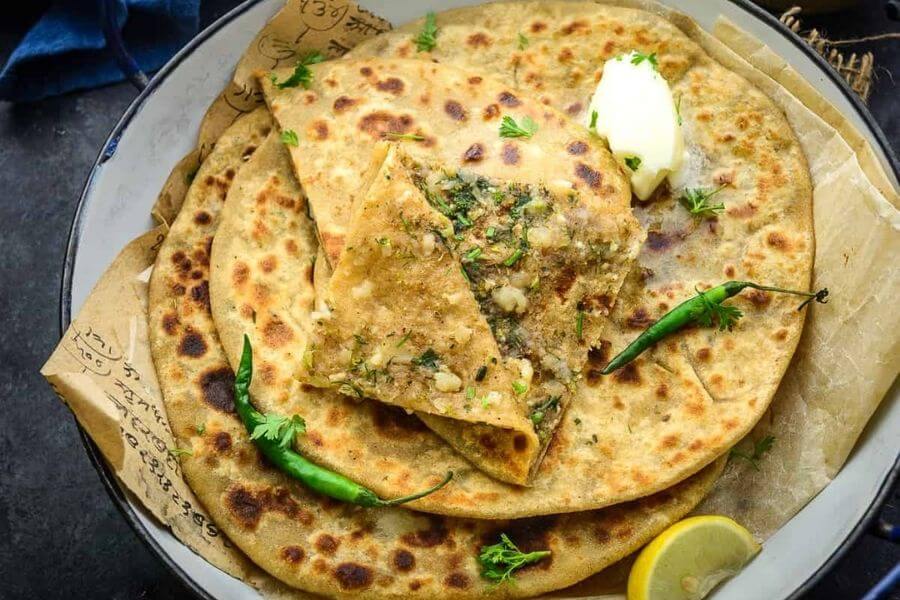 Broccoli is low in calories. It is rich in essential minerals, vitamins, and fibers. It is effective in losing weight. Broccoli has high levels of calcium, which provides strength to the bones. The anti-inflammatory properties of sulforaphane present in broccoli works wonder for your heart, making it healthy.
Yield: 3 servings
Ingredients
2 cups whole wheat flour
1/2 crown broccoli
1/2 onion (minced – optional)
Garlic
1 clove
2 green chilies
Garam masala
Turmeric powder
1/2 tsp carrom seeds (Ajwain)
Salt, for taste
Method
Wash the broccoli properly and cut it into florets.
Boil some water and add approximately 10 florets to it with some salt.
After 2 minutes, remove the florets.
Grind it into a fine paste with turmeric powder, green chilies, garlic, and garam masala.
In a mixing bowl, add wheat flour, the ground mixture, some minced onions, carrom seeds, and salt.
Knead it into a dough and make parathas. Serve hot.
4. Asparagus And Broccoli Stir Fry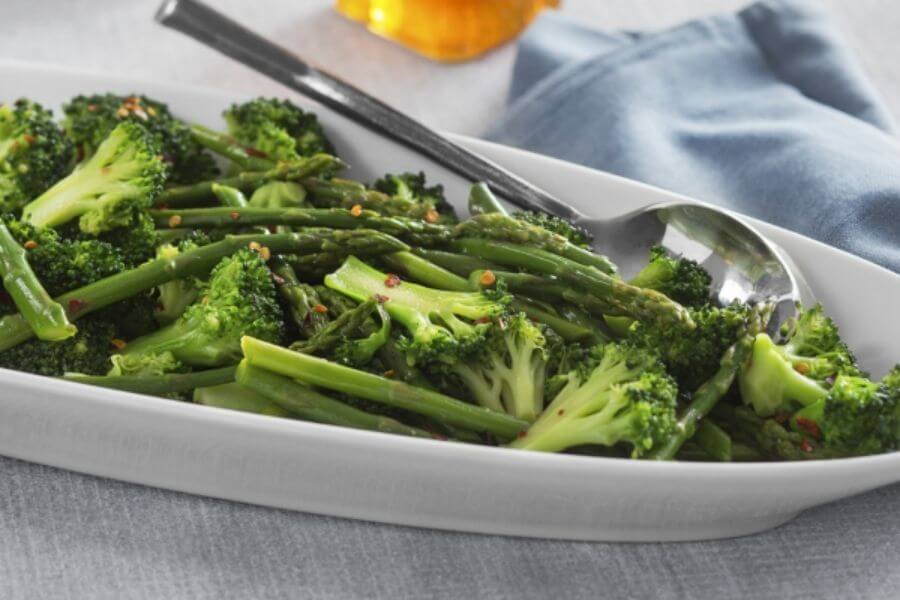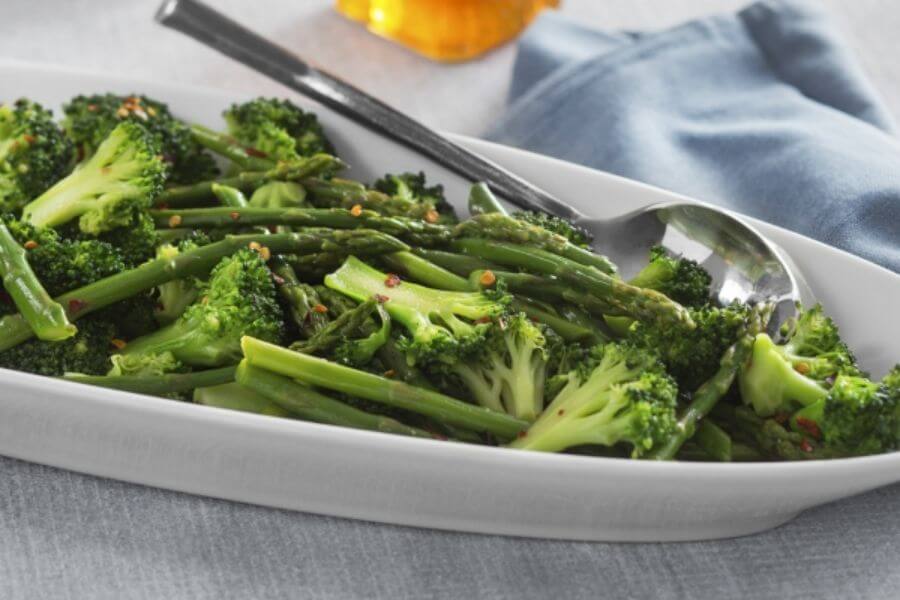 Asparagus helps to improve digestive health as it is high in dietary fibers. The potassium in asparagus helps lower blood pressure; potassium reduces in salt intake, which lowers the blood pressure. It is easy to add to your diet. It is used in other dishes like salads, pasta, omelets.
With the benefits of broccoli mentioned above, no wonder it is included in almost every dish. The fibers and good carb present in broccoli help in relieving constipation, digestive problems, regulate blood pressure, etc.
Yield: 2 – 3 servings
Ingredients
500 g asparagus
1/2 cup
broccoli florets
1 tsp pepper
1 tsp salt
1/2 tsp garam masala
1 shallot onion (finely chopped)
1 tbsp ginger garlic paste
2 tbsp oil
lemon juice, from 1 lemon
Method
Break the woody ends of the asparagus (from the bottom) and discard it.
Next, cut it into pieces of 1 inch in size.
In a small bowl, add pepper, garam masala, salt, ginger, garlic paste, and little oil.
Add the broccoli florets and asparagus pieces to this bowl and toss well so that the masala covers the veggies aptly.
In a large skillet, heat the oil. Add chopped onion and fry for 2 minutes.
Add the veggies and stir-fry on medium-high flame for 5 minutes.
Switch off the flame.
Add the lemon juice and toss.
Asparagus and broccoli stir fry is ready to be served.
5. Mix Rice Salad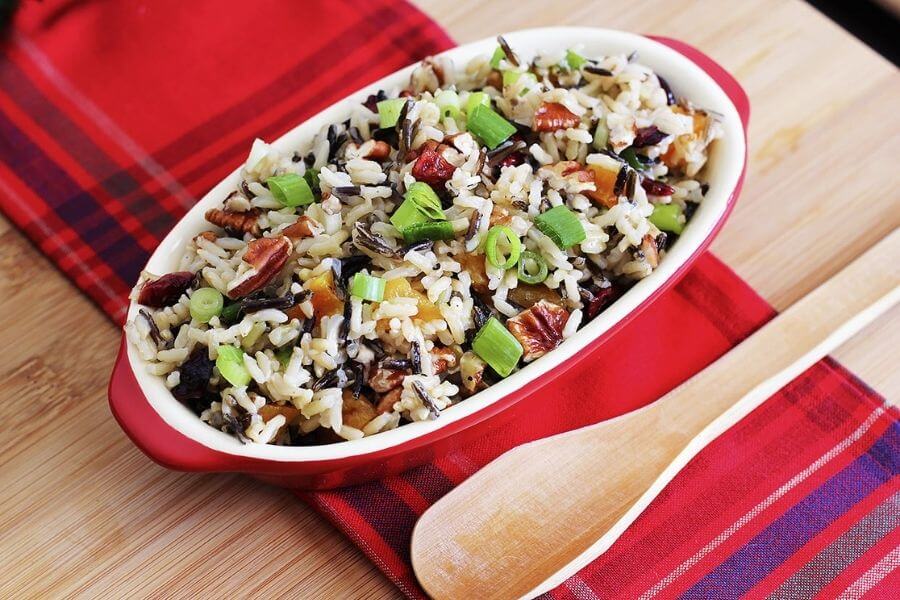 Rice is a crop grown all over the world and is readily available. There are different types of rice — long-grain basmati rice, black rice, white rice, and sticky (or glutinous) rice. Brown rice is also gluten-free. It is a good source of magnesium, vitamin B6, phosphorus, selenium, thiamine, niacin, and manganese. The nutritious rice benefits our bodies by aiding in digestive health, lowering blood pressure, and a quick energy source.
Yield: 6 servings
Ingredients
400 g mixed rice, long-grain
150 g mixed nuts
15 g of fresh basil
15 g of fresh mint
75 g dried apricots
extra virgin olive oil
Method
Cook the rice, and then, allow it to cool.
Roughly chop the mixed nuts, basil, mint leaves, and apricots.
Combine all the remaining ingredients with rice.
Add salt, black pepper.
Serve with grilled veggies or chicken/fish.
I hope you find these quick and nutritious recipes for a healthy living useful. Do try them and earn your health. Eat healthy food! Stay healthy!
Read Also: 2 Healthy, Nutritious Quick Evening Snacks To Satisfy Your Hunger