What is your favorite snack when you have a small hunger before your meal? Especially in the evening when you need to eat something quick. To satisfy the cravings, we eat what is available without checking if it is healthy to eat or not, leading to excess weight increase, etc. Try these delicious and healthy evening snacks to satisfy your hunger with healthy food. These healthy snacks help you to avoid junk food.
Healthy Evening Snacks To Satisfy Your Hunger
1. Nachni And Khajoor Badam Gujia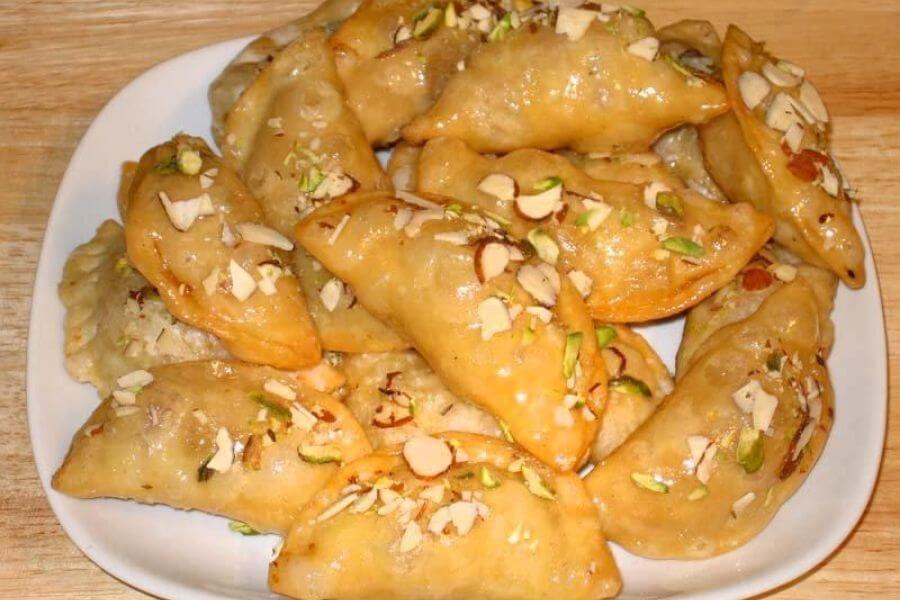 Ingredients
50 gms Ragi (nachni) flour
50 gms Whole Wheat flour
2 teaspoons Jaggery
50 gms Dates
25 gms Almonds
2 teaspoons Flaxseeds
1 teaspoon refined oil
Lukewarm water for making a dough
Method
Combine whole wheat flour (atta) with ragi flour, oil, and one teaspoon jaggery.
Add some lukewarm water and knead the entire mixture lightly.
Make a soft dough and set it aside.
Mix finely chopped dates, finely chopped almonds, flax seeds, and one teaspoon jaggery to form into a mixture.
Prepare round and thin chapattis (3-inch diameter) out of the kneaded dough.
Fill half of the chapatti with the mixture and, rolling it, seal the sides of the chapatti, keeping the mixture inside it.
Make the sealing look decorated by giving a glimpse of hemming.
Steam the gujias for 15 – 20 mins.
Let them cool.
Store them in an airtight container.
You can deep fry the gujias as well, but they would not be as nutritious as steamed ones.
Make 8 – 10 pieces.
Health Benefits
This sweet is rich in iron, phosphorus, calcium, manganese, magnesium, copper, zinc, selenium, potassium, vitamins, folic acid, amino acids, omega 3 fatty acids, antioxidants, and fiber.
2. Masoor Kebab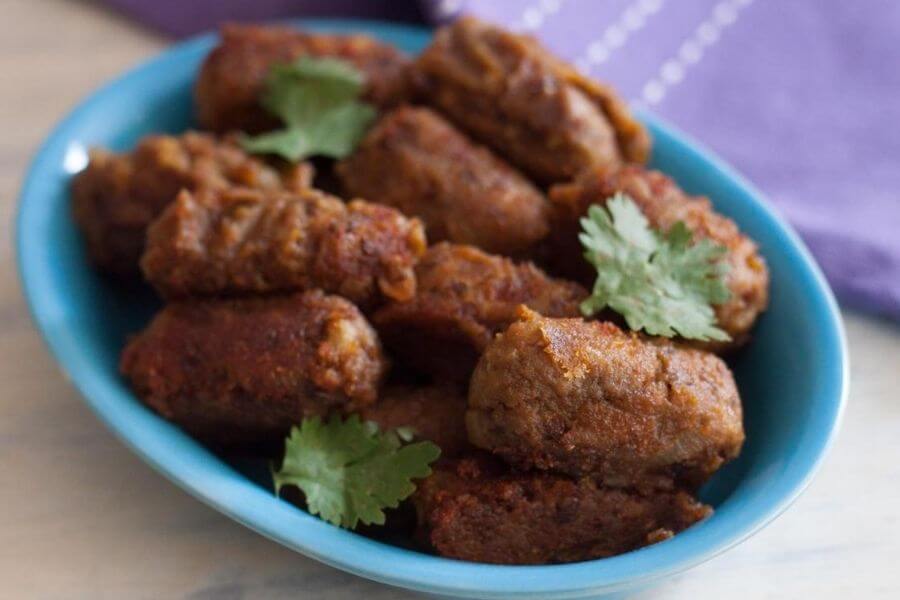 Ingredients For Garnishing
Finely chopped coriander leaves
½ tsp red chili powder
½ tsp coriander powder
1 dry bread slice
salt to taste
oil for cooking
Ingredients For Kebabs
150 gms masoor dal
1 medium finely chopped onion
1 teaspoon ginger finely chopped
1 teaspoon garlic finely chopped
1 finely chopped green chili
1 tablespoon refined oil
Salt, red chili powder, jeera powder to taste
Method
Soak masoor dal in water for about an hour.
Grind in a mixer with water till it forms a smooth flowing consistency. Then keep it aside.
Heat oil a pan and then sauté finely chopped ginger, garlic, green chilies, and onion till light brown.
Add masoor dal paste, salt, red chili powder, jeera powder and cook continually stirring on low flame till this mixture starts leaving the sides of the pan (avoid forming lumps).
Grease a thali/glass bowl (1-inch depth) and pour this mixture into it.
Spread evenly and flatten the top of the mixture with your palm to give it an even texture.
Let it cool; cut into square shapes. Shallow fry till golden brown.
Make 10 – 12 pieces.
Health Benefits
Lentils contain a high amount of proteins, dietary fiber, folic acid, magnesium, phosphorus, and other minerals. The fat content of lentils is negligible. Lentils are one of the best vegetarian sources of iron.
Iron is particularly important for adolescents and pregnant and lactating women, whose requirements for it are increased. There is a loss of iron during the monthly menstruation cycle, and lentils can help maintain iron levels in the body.
The soluble fiber helps in lowering bad cholesterol. The insoluble fiber helps in preventing constipation and disorders like diverticulitis and irritable bowel syndrome. It helps avoid wide swings in blood sugar levels throughout the day.
Consume lentils and pulses, which are packed with proteins as well as various nutrients and are low in fat and calories. It is advisable to restrict red meat, which is although rich in protein but has solid calories and bad fat, which are the cause of numerous diseases.
Read Also: 7 Night Binging Eating Options To Satisfy Midnight Hunger