Breakfast recipes such as omelet, scrambled eggs, and half-fried eggs end up too frequently on our breakfast tables. Well, to break the monotony, we can experiment with some more interesting breakfast recipes.
Egg mayo sandwich is fairly easy to make that does not require any elaborate preparations. If you have some fresh mayonnaise lying in your refrigerator, then this preparation can be turned up in no time and gives a healthy kick start for your day.
Not to forget, egg mayo sandwich is packed with healthy nutrients required by the body to boost its metabolism, functioning, etc. What is the perfect way to start your day than a healthy breakfast?
Egg Mayo Sandwich Recipe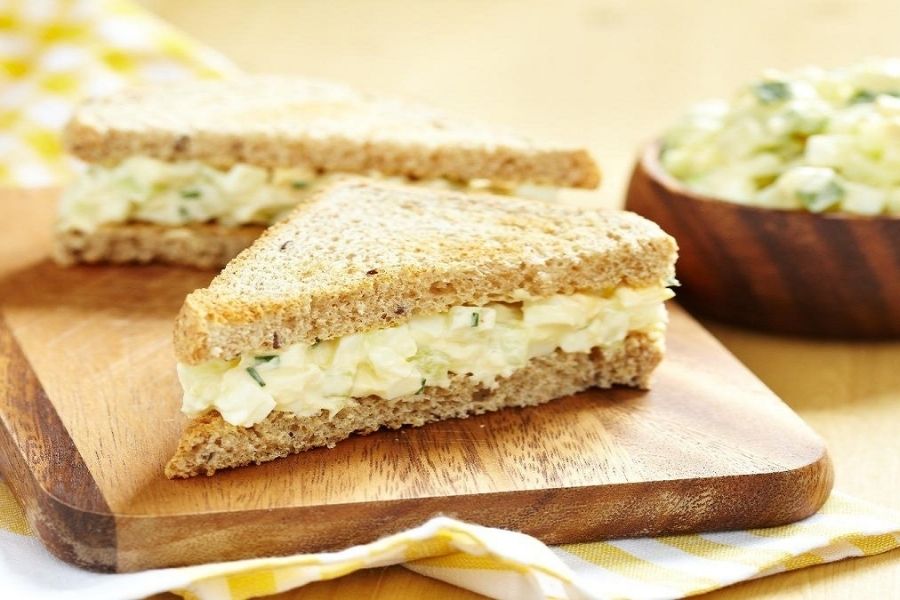 Ingredients
2 hard-boiled eggs
4 brown bread slices
2 tbsp mayonnaise
1 finely chopped green capsicum
½ finely chopped yellow capsicum
½ finely chopped red capsicum
1 medium finely chopped sized onion
½ tsp tomato ketchup or sauce
¼ tsp black pepper
1 tsp salt
Butter/Ghee
Method Of Preparation
Hard boil the eggs. Chop them in cubed shape.
Finely chop the vegetables and keep them aside.
For Sandwich Filling
Take a bowl and add chopped vegetables and cubed eggs. Mix well.
Add 2 tbsp of mayonnaise to the bowl, ¼ tsp of black pepper powder, and a pinch of salt (if required). Mix them well.
While assembling the sandwich, heat a grill pan.
Apply butter generously on one of the bread slices.
Now put some filling on the buttered slice.
Apply tomato ketchup or sauce on the other slice.
Do the same for the remaining bread slices.
Grease the pan with some oil. Add 1 tsp butter to the pan. Allow it to melt.
Smear the grill pan with some butter. Place the sandwich on the pan.
Apply some butter on the top slice. Flip over the sandwich to grill the other side.
Grill the underside for a couple of minutes.
You can apply some more butter.
Similarly, make the other sandwiches.
Egg Mayo Sandwich Nutritional Value
For 1 serve,
Calories: 350 kcal
Protein: 15 g
Fat: 30

g

Carbohydrates: 50.9

g

Fiber: 3.2

g
Note: 1 serving of a sandwich fulfill the need of one meal.
Health Benefits Of Egg Mayo Sandwich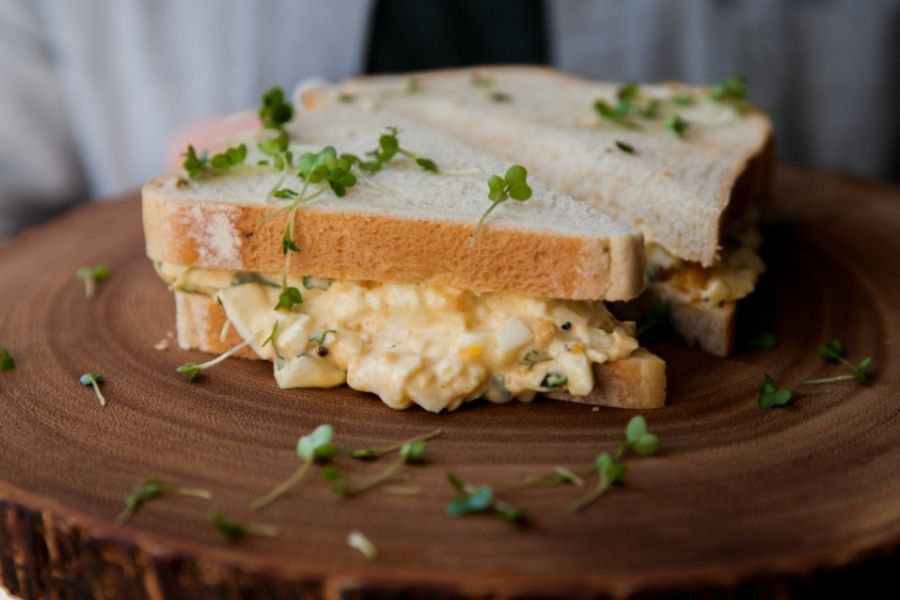 'EAT HEALTHY, BE NUTRITION WEALTHY. '
Egg mayo sandwich offers many health benefits to the body, which makes it a healthy breakfast recipe. Egg mayo sandwich is a rich source of protein. It is the right balance of carbohydrates, protein, and fats. You can eat this sandwich as a post-workout meal, and it is also the best choice for people going for weight gain.
Eggs are protein-packed and are one of the best healthy options for intaking protein naturally. Starting your day with eggs benefits the body by giving it energy. Eggs help to raise the good cholesterol level in the body. They provide a proper amount of omega-3 fatty acids, an essential fat that promotes a healthy cell membrane.
The fillings in the sandwich – capsicums, onion, etc., are good for the health too. They offer antioxidants to the body, which help reduce free radical damage. They improve the immunity of the body that keeps you away from any health ailments. Capsicums help promote the metabolic process, boosting weight loss. Onions are best for increasing bone density. They have anti-bacterial properties.
Mayonnaise contains vitamin A nutrients that are good for the heart. It also contains omega-3 fatty acids. However, do not consume mayonnaise in excess as it may lead to obesity and weight gain issues.
A Healthy Tip
For vegetarians: Instead of eggs, vegetables/corn/mushrooms can be added for the same mayonnaise dressing. Instead of mayonnaise dressing, thick flavored yogurt dressing can be used.
Read Also: 2 Healthy, Nutritious Quick Evening Snacks To Satisfy Your Hunger