Do you want to lose weight while eating healthy and feel satisfied? I have good news for you. Consumption of these healthy soups for weight loss will feed your taste buds, fulfill your stomach, and keep your hunger satisfied for a longer time. You will be happy to know that regular soup consumption can help with weight loss and burn excess fat in the body. Therefore, I have enlisted below eight healthy soups for weight loss. They are also known as fat-burning soups. You can add your variations to these soups.
Benefits Of The Soups For Weight Loss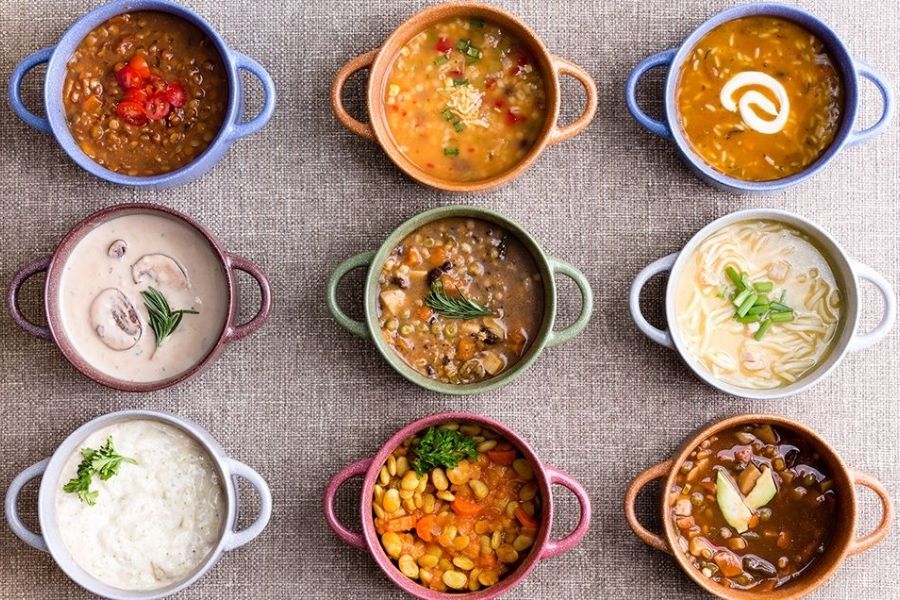 It is a useful tool for weight loss. You can lose weight in a nutritious way.
Soups help us cut down calories from the main meal. Research has proven that drinking soup 30 mins before starting your main course can reduce extra calories in the body.
Soups help ease hunger pangs.
Tasty and healthy soups add joy to eating.
Soups increase the overall consumption of liquids throughout the day.
They help in detoxification and improves gut bacteria.
Healthy Soups For Weight Loss
1. Soya Granules And Apple Cider Vinegar Soup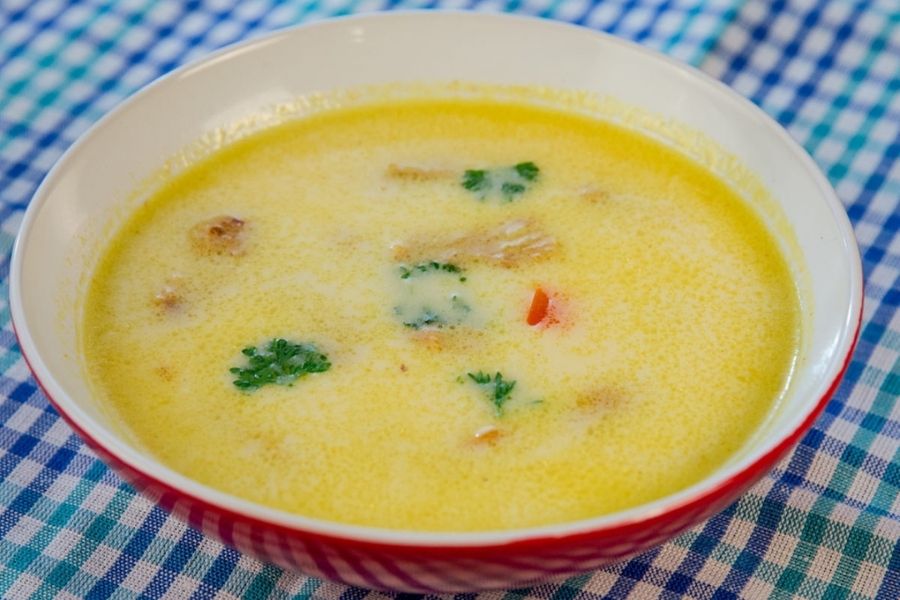 Soya granules are high in protein and less in calories. They are also rich in many useful nutrients, such as vitamins, minerals, lectin, isoflavones, etc. They help reduce the harmful cholesterol levels in the body. They stop excess fat accumulation; thus, reducing weight.
Apple cider vinegar (ACV) helps burn fat and reduce weight. It has several health benefits. Acetic acid, a critical ACV component, keeps you fuller and satisfied, preventing you from overeating and reducing extra calorie intake. This healthy soup helps in reducing weight.
Ingredients
15 g soya granules
Finely chopped onion, cabbage, and capsicum
Ginger garlic paste
1 tsp chopped green chilly
2-1/2 bowl vegetable stock
1-2 tsp apple cider vinegar
Salt
Procedure
Boil soya chunks (granules) in salt water for 15 min and keep them aside.
Then add chopped onion, cabbage, and capsicum.
Now add chopped green chilly and apple cider vinegar.
Add required quantity of vegetable stock.
Salt as per taste, pepper powder, and bring it to boil once and serve hot.
2. Tangy Drumstick Soup
Drumsticks can be used to shed extra weight from the body. Drumsticks and drumstick leaves are low calories and high in antioxidants. It is also high in iron and calcium, which is good for strengthening muscles and bone. It also posses antibiotic property. This soup works wonder for reducing belly fat.
Ingredients
Four drumsticks
One bowl of drumstick leaves
Soaked tamarind coin size
Garlic and coriander (coarsely chopped)
Tamarind water
Cumin seeds
Asafoetida
Chilly powder
Salt as per taste
Vegetable stock
Procedure
Cut the drumstick into 3-inch pieces and leaves and boil until soft in saltwater.
In a bowl, take out the pulp from the cooked drumsticks.
Take a pan and add oil and cumin seeds. Wait until they splutter.
Add garlic coriander paste and saute. Add chilly powder. Then add tamarind water and boil for 2-3 min.
Mix with drumstick pulp and stir continuously.
Serve hot with some cooked drumsticks.
3. Pink Kokum Soup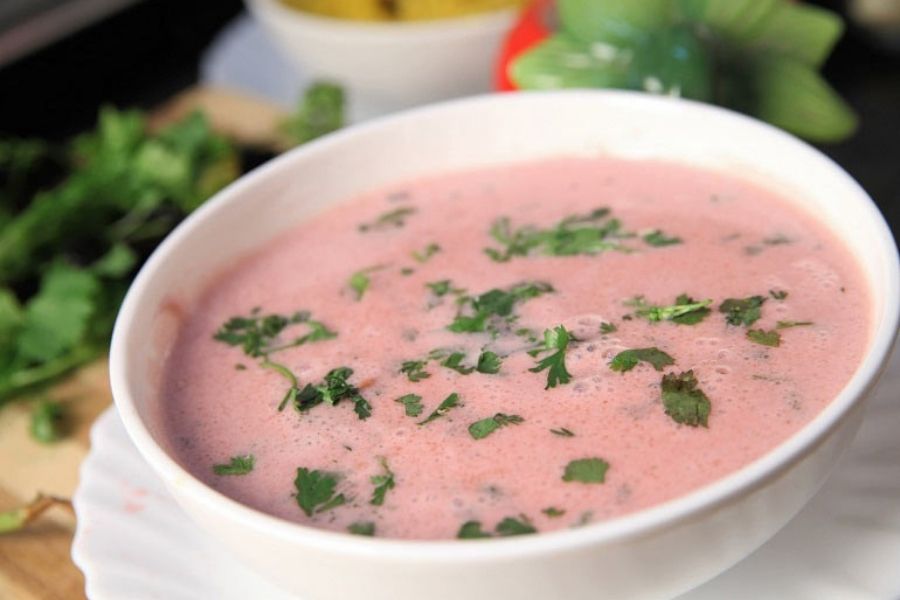 Kokum soup plays a significant role in promoting weight loss. Coconut milk contains coconut oil. It is high in medium-chain triglycerides, which helps in the reduction of visceral fat. It also boosts metabolism. It has HDL, which removes bad cholesterol. Therefore, if you wish to reduce fat accumulation, go for this.
Ingredients
Four kokum petals (soaked in one bowl of water for 15 min)
One bowl of coconut milk
1 tsp. of cumin powder
Green chili
Salt as per taste
Chopped coriander for garnishing
Procedure
Remove kokum petals from pink water.
Add a half bowl of freshly prepared coconut milk.
Add garlic, green chili, and cumin powder.
Keep in refrigerator garnish with coriander leaves. Serve cool.
4. Spring Onion And Split Gram Soup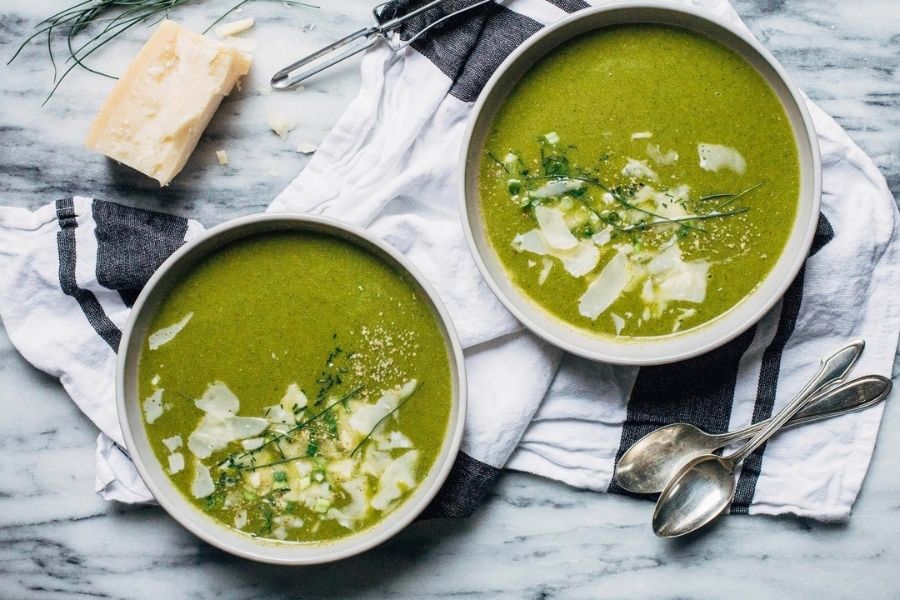 Onion stalks are low in calories and high in protein. They are low in sodium. The soluble fiber in spring onions is a probiotic food that maintains a healthy gut. This soup helps in losing weight healthily.
Split green gram is full of healthy nutrients that help tackle weight loss. It is high in dietary fiber and B vitamins. It increases the body's metabolism that reduces the extra fat in the body.
Ingredients
50 g cooked split green gram
Garlic and coriander paste
Tender spring onions (chopped)
Turmeric
Asafoetida
Carom seeds
5 ml oil
Salt
Procedure
Mix the cooked spring onion and green gram.
In a hot pan, add some oil and garlic coriander paste.
Add the above mixture and all spices and salt.
Bring the mixture to a boil. Serve hot.
5. Broccoli Walnut Soup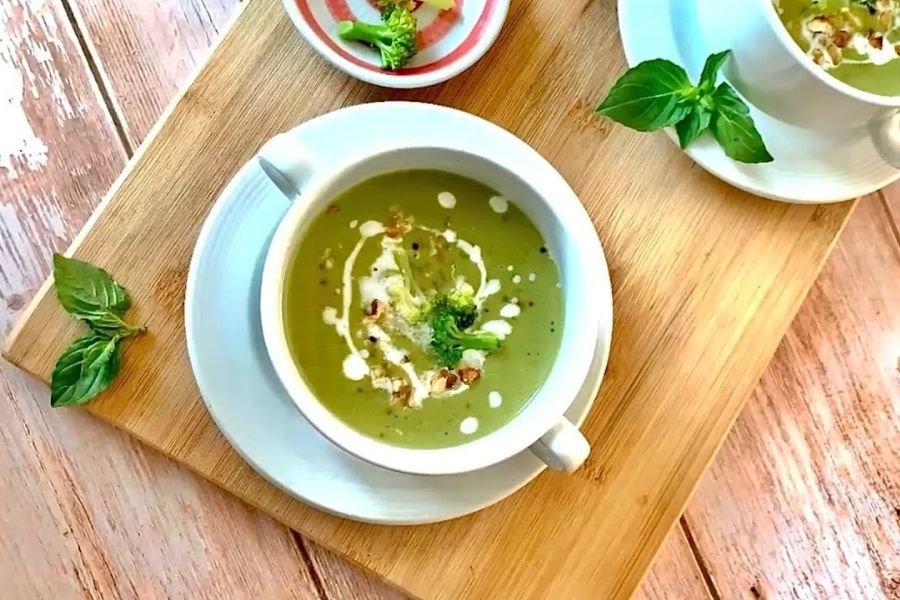 Broccoli contains vitamins (A, C, and K), folate and a good plant protein source. It has a low calorie and high amount of dietary fiber. Dietary fiber keeps you full, avoiding unnecessary overeating that causes extra fat accumulation in the body.
Walnuts are rich in omega 3 fatty acids and antioxidants, which protect the body from cellular damage. Walnuts are one of the healthiest nuts one can eat for weight loss.
Ingredients
1 cup of broccoli
Two walnuts (cut into pieces and soaked in hot water)
1/4th cup of onions
1 tsp. of lemon
Pepper powder
Procedure
In a pan, add onions to the hot oil, and saute on medium flame.
Then add broccoli and water and cook them until soft.
Mix soaked walnuts and simmer for 2-3 min. Let it cool.
Blend in the mixer—transfer content into the pan.
Add salt, and bring it to a boil.
Take off from the flame, add lemon juice, pepper powder, and serve hot.
6. Spinach Almond Soup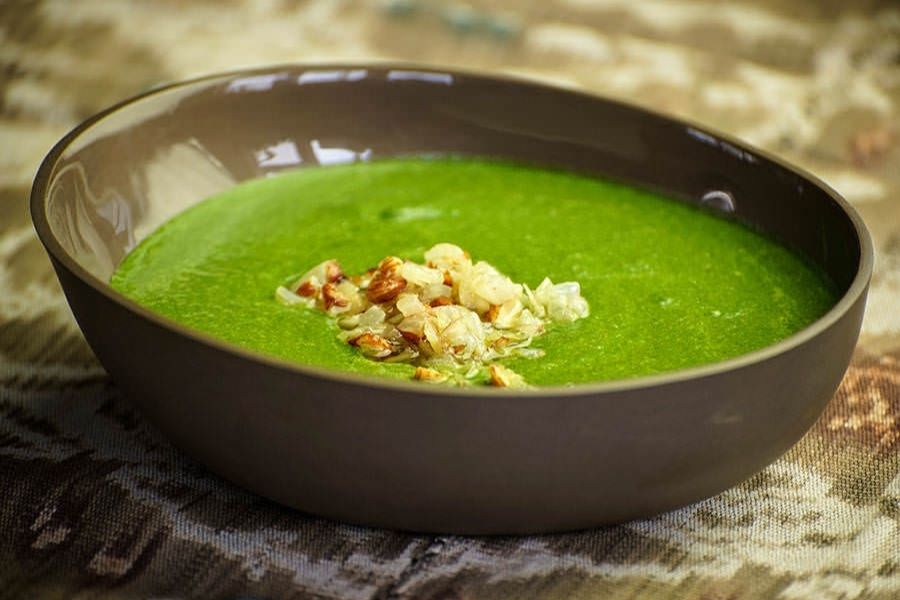 Spinach helps in the reduction of abdominal fat. Its high fiber content reduces appetite; thus, taking care of extra weight gain. Spinach is rich in iron, calcium, vitamin B.
Almonds help shed unwanted extra pounds from the body. Almonds are rich in monosaturated fatty acids, which are essential for abdominal fat-burning.
Ingredients
100 g spinach leaves
1/2 cup of onion
1/4 cup of tomato
Green chilly and ginger
1 inch of cinnamon stalk
Pepper powder
Eight soaked almond (make the paste into a blender)
Salt as per taste
Procedure
Take a pan, add 2 cups off the water. When it comes to boil, add spinach, onion, tomato, green chili, ginger, cinnamon. Boil it until it becomes soft.
Let it cool. Take out the cinnamon.
Blend all and make medium consistency.
Transfer the content into a vessel and boil it.
Take out from flame and add pepper powder.
Now, add almond paste and serve hot.
7. Mushroom Basil Soup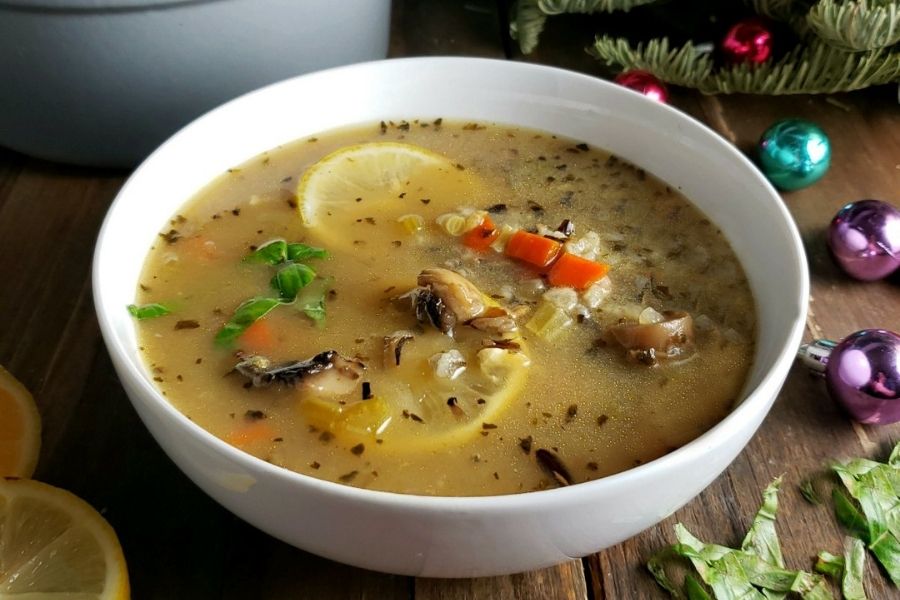 Mushrooms are high in protein, fiber and low in calories and sodium. This plant-based ingredient boosts your weight loss process by regulating glucose levels in the body. It is rich in niacin, increasing the metabolic process.
Basil leaves are naturally beneficial to the body. They burn lots of calories by speeding up the metabolic process. They effectively convert food into energy, reducing weight loss.
Ingredients
50 g mushrooms
1/2 cup of minced onions
Ginger paste
Butter
1/2 cup of basil leaves
Salt
Lemon juice as per taste
Black pepper powder
Procedure
Cut mushroom into pieces.
Heat the pan and add butter. Then add ginger paste and onions. Saute for 2-3 min.
Add mushrooms and cover the pan for 2-4 min. Mix well. Add salt.
Blend in a mixer by adding water to make the required consistency of soup.
Transfer into a pan. Add basil leaves, salt, lemon juice, and pepper powder, and bring it to boil. Serve hot.
8. Minty Carrot Soup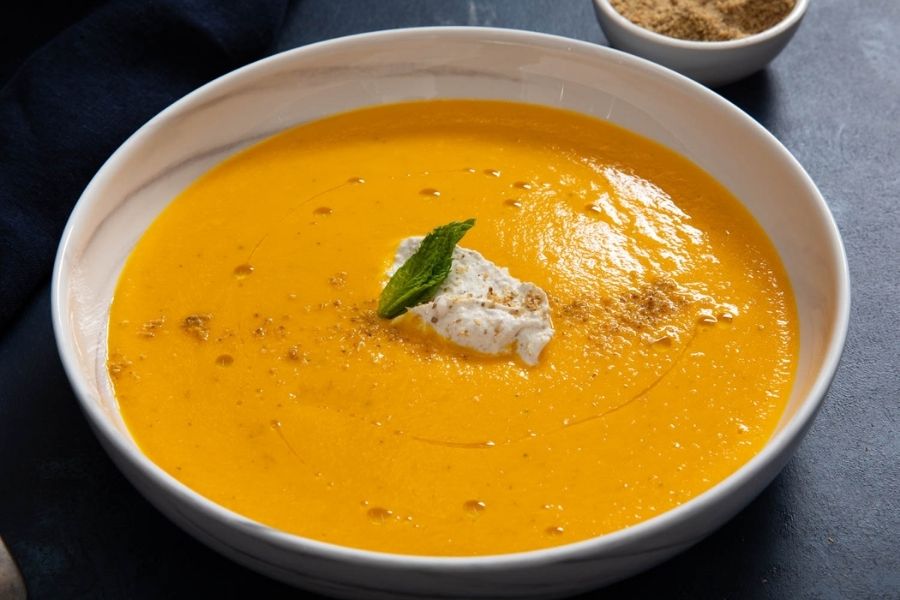 Carrot is high in fiber. And it helps in fat burning. They are low in calories. Carrots are a helping tool to reduce due to their high-fiber and low-calorie content. Therefore, carrots are a nutritious and healthy choice for weight loss.
Mint aids in digestion and removes gases and bloating. Mint produces digestive enzymes, which help in the absorption of nutrients. When the body can assimilate nutrients properly, metabolism improves, causing weight loss.
Ingredients
Four medium-sized carrots
1 cup of mint leaves
One medium-sized onion
One tomato
1-inch cinnamon stick
Pepper powder
Salt
Procedure
Cut all vegetables, except mint, into pieces. Boil in 2-3 cups of water with cinnamon for 5 min.
Take out veggies from water. Use remaining water as stock.
Blend into the mixer. Transfer the mixture to a hot pan.
Now add the stock and chopped mint leaves.
Bring the mixture to a boil and add salt and pepper powder.
Serve hot.
Tips To Make Soups For Weight Loss More Healthy And Tasty
Wash all vegetables carefully to remove dirt and pesticide chemicals.
You can make soup completely fat-free by avoiding the use of butter or oil.
Roasted Makhanas can be used instead of bread crotons.
Do not sieve any vegetable puree.
Oats powder can be used as soup thickening.
Cook vegetables in a closed vessel.
Consume soup before 30 min. of your main meal. You can avoid overloading calories.