Diwali is almost here; a joyous festival of lights, crackers, and of course sweets. India is worldwide famous for its sweet delicacies; delicious and, rich with ghee, milk, and sugar. While these sumptuous sweets are indulging, they do add a lot of calories and excess fat into your system. However, this need not mean compromising on Diwali without sweets. Celebrate it guilt-free, with these healthy treats, with a twist.
1. GRANOLA SESAME LADOOS
Ingredients:
2 cups dry roasted Sesame seeds
1/2 cup soaked Chia seeds
1/4 cup soaked Pumpkin seeds
1/8 cup soaked Walnuts
5- 6 Medjool Dates
1/2 handful Raisins
1/2 cup shredded Coconut Flakes
1 tsp Cardamom powder
1/4 tsp Nutmeg and Cinnamon powder
Pinch of salt
Method:
Blend the soaked chia seeds, dates, and raisins in a blender to a fine paste consistency.
In a bowl, add this paste to the remaining ingredients and form into balls.
Refrigerate the lovelies for about 2-4 hours and they are ready to dig!
2. GREEN APPLES AND COUSCOUS HALWA
Ingredients:
1 cup couscous lapsi/dalia(broken wheat).
4 – green/red Apples peeled, coarsely chopped
1/4 cup ghee
To taste organic jaggery
3 cups boiling hot water
A few strands of saffron or 1/4 -1/2 tsp. green cardamom powdered
A handful of almonds flakes & chopped pistachios, mixed
A handful of raisins
A pinch of cinnamon powder
Method:
Heat ghee in a kadhai.
Add couscous and stir-fry until it turns golden with a fragrant aroma.
Add half the water and simmer till the wheat is cooked through. The grains should be soft.
Add apples and stir, add remaining water and jaggery till cooked to the desired texture.
Add raisins, saffron, cardamom, and cinnamon powder.
Cook until ghee separates and halwa comes off the edges.
Garnish with dry fruits.
Serve this fruity halwa hot.
3. ROSE PISTACHIO BALLS
Ingredients:
1/2 cup raw, shelled pistachios
1/2 cup raw cashews
1 tsp vanilla extract
1 tsp rose water
8 Medjool dates pitted
1/4 tsp ground cardamom
A pinch of salt
Method:
Add all ingredients to a blender and blend until the mixture sticks together.
Press together the mixture between your palms to make one solid form. Roll it into balls and store at room temperature for 3 – 4 days.
4. INDIAN FUDGE
Ingredients:
1 1/2 cups dried figs
1 1/2 cups dates, pitted, roughly chopped
1 1/2 cups mixed nuts (almonds, pistachios, cashews), chopped
3 tbsp coconut oil
Method:
Soak figs in hot water for five minutes.
Discard the water and put them in a grinder and purée.
Soak the dates in hot water (1/2 cup) for fifteen minutes and purée the dates.
Heat oil in a heavy bottomed pan and add puréed figs and dates. Cook for about fifteen minutes. Stir continuously and cook till the mixtures thicken. Add chopped nuts and cook till the mixture leaves the sides of the pan and starts gathering as a ball.
Pour in a greased plate, spread evenly and let it cool. When cold, cut into squares and store.
5. PEANUTS & DATES ENERGY SPHERES
Ingredients:
1 cup dry roasted peanuts (unsalted)
12 medjool dates (pitted, roughly chopped)
2 tablespoons unsweetened cocoa powder
1 tablespoon creamy peanut butter
1 teaspoon vanilla
1/4 teaspoon fine sea salt
Method:
Blend peanuts until crumbly with some larger pieces. Be careful not to process too long.
Process dates into small pieces until it becomes a gooey mass.
With dates, add nuts, cocoa powder, peanut butter, salt, vanilla.
Pulse until mixed together. Do not over process.
When a ball can be formed, it's done.
Roll into balls or form into bars. Keep in an air-tight container and refrigerate.
6. APPLE RABDI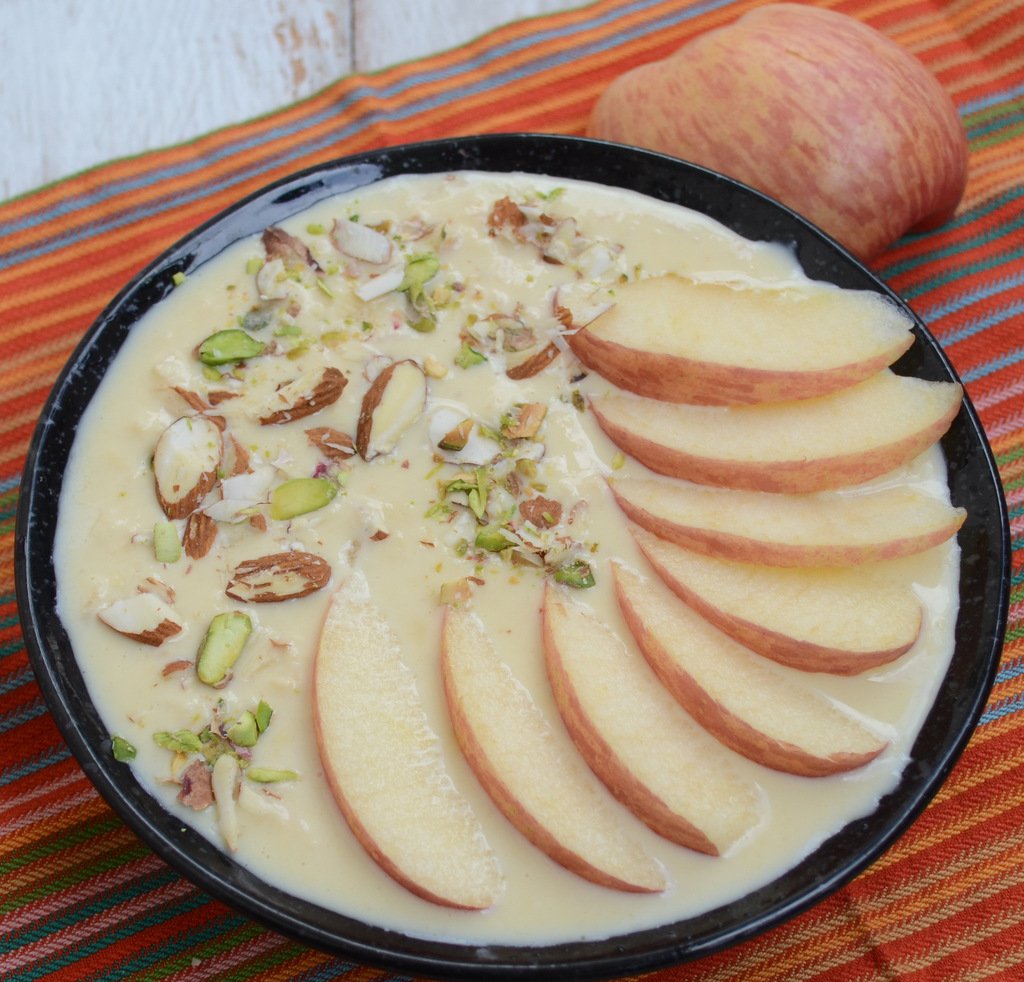 Ingredients:
500 ml Toned milk
1 cup freshly grated apple
7-8 strands of Saffron (Kesar) strands soaked in 2 tablespoons of warm milk
¼ teaspoon Cardamom (elaichi) powder
1 teaspoon Chia seeds (soaked in 2 tablespoons of milk)
Sugar substitute like stevia
½ tsp Lime juice
2 pieces each of Slivered Almonds and pistachio
Method:
Boil milk in a non-stick pan.
Cook on a low flame until the volume is reduced to half while stirring occasionally.
Add sugar substitute and cook on a slow flame till the milk thickens like rabdi.
Add the cardamom powder and cook for another 20 minutes. Switch off the flame and let it cool.
Heat a small non-stick pan. Add the grated apple, sugar substitute and 1 tablespoon of water and mix well. Cook on a medium flame for 2 minutes. Remove from flame. When cooled down, add it to the milk chia seeds mixture.
Garnish with slivers of almonds and pistachio and serve chilled.
7. NUTTY TRUFFLES
Ingredients:
1 cup Oats
¼ cup roasted walnuts
¼ cup roasted almonds
¼ cup sesame seeds
¼ cup organic honey
½ cup peanut butter
¾ cup dates puree
1 cup melted dark chocolate
1 tsp vanilla essence
Method:
Dry roast the oats, nuts, and sesame seeds till they become crunchy and golden brown.
They can all together either be powdered finely or the oats can be used whole and the nuts roughly chopped.
In a pan, heat peanut butter and honey on a low flame.
Take it off the flame; add vanilla essence and dates puree. Mix well.
Add this to the dry ingredients and mix well with a spatula till well combined.
Make bite-sized spheres and refrigerate for half an hour.
Take them out and dip in melted dark chocolate. Put them back in the fridge till set.
Serve as is.
8. LAUKI KHEER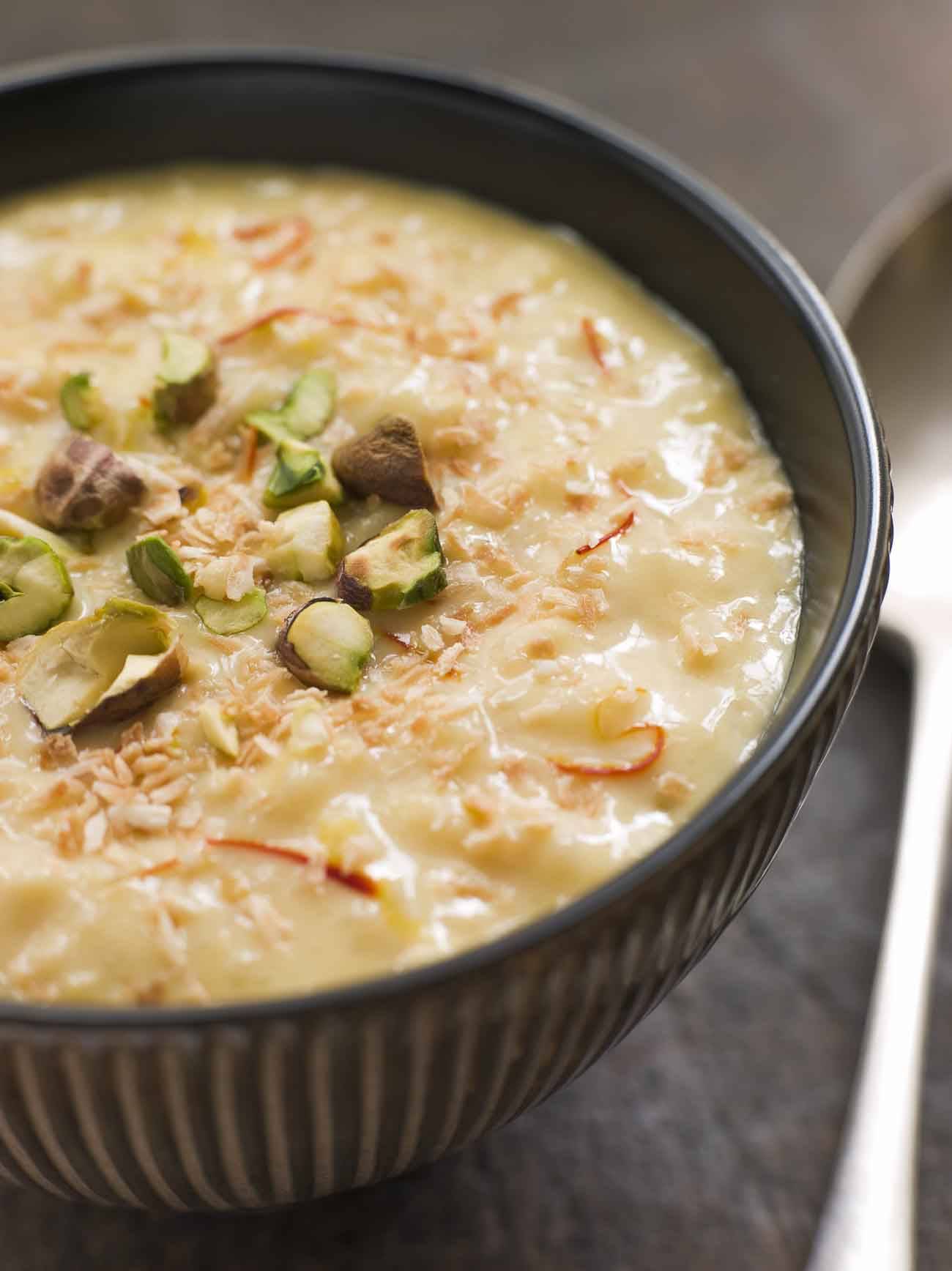 Ingredients:
1 cup Grated Bottle Gourd (Doodhi/Lauki)
150 ml Skimmed milk
2 teaspoon Jaggery
¼ teaspoon Cardamom Powder (Elaichi Powder)
1 teaspoon Chia seeds
Method:
Mix milk and grated bottle gourd in a deep pan.
Cook on a medium flame till the gourd is fully cooked while stirring occasionally
Add jaggery to this mixture, and cook for 2 minutes
Add cardamom powder, chia seeds and stir well
Let it cools off completely and then refrigerate for at least 1 hour
Lauki Kheer is ready to be served
9. MULTIGRAIN LADDOO
2 cups Multigrain flour (ragi, jowar, bajra, wheat, sesame seeds) (mixed in equal amounts to make 2 cups)
¼ cup Jaggery
1 tablespoon Desi Ghee (clarified butter)
2-3 Cardamom – Finely powdered
5-6 Roasted almonds
1 teaspoon Roasted flax seeds
Method:
Heat ghee in a heavy-bottomed non-stick pan and fry the multigrain flour lightly on a medium flame till golden brown. Set aside to cool
Melt jaggery with 1/4 cup water in a pan; a filter to remove impurities.
Pour the filtered mix to the pan and add cardamom powder. Boil till it reaches a thick consistency. If a ball comes out when in water undisturbed for 30 seconds, the syrup is ready.
Switch off the flame. Mix the flour and syrup without any lumps. Add nuts and mix well
Grease your hands with ghee to make the balls while the mixture is still warm.
Let the laddoos rest till cool. Store in an airtight container
10. PAPAYA OATS YOGHURT PARFAIT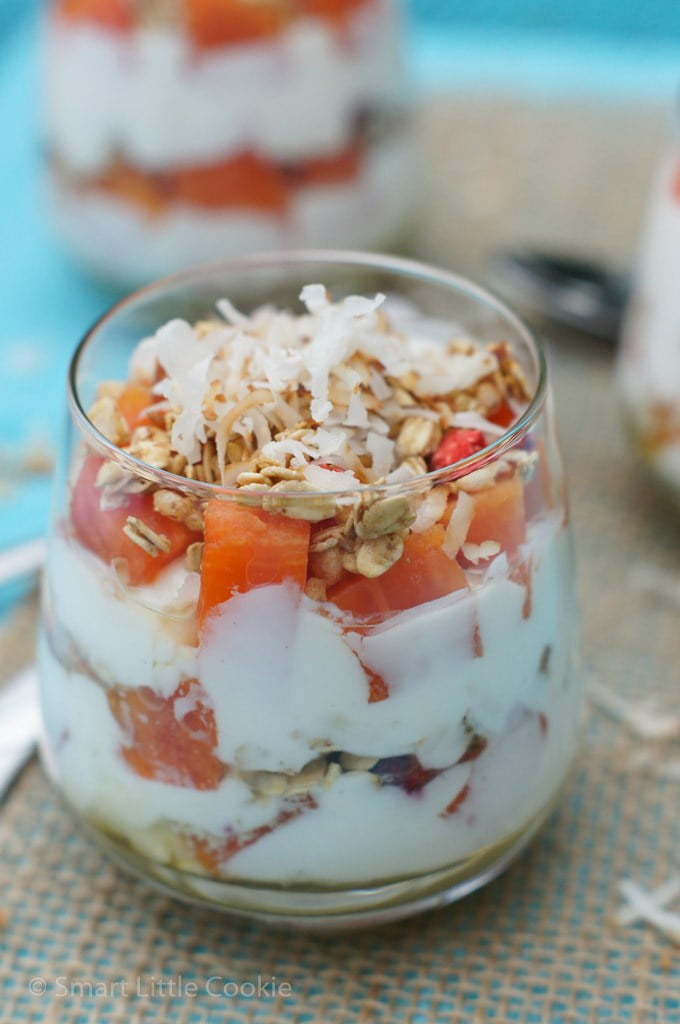 Ingredients:
200 grams of diced papaya
200 ml of low-fat yogurt (unsweetened)
20 grams roasted oats and almond flakes
A few sprigs of mint
Method:
Arrange papaya in a bowl, layered by low-fat yogurt, then roasted oats and nuts.
Serve chilled, garnished with fresh mint leaves.
11. SORGHUM DATES LADDOO
Ingredients:
½ cup Jowar Flour
10-12 Dates – seeds removed and chopped
2-3 tablespoon Chopped nuts (Almonds and walnuts)
½ cup Water
2 teaspoon Ghee
½ teaspoon Flaxseeds
Method:
Dry roast jowar flour in a kadhai till golden brown. Make sure it does not burn. Take off the heat and let it cool.
Add chopped dates and water in a pan on medium flame. Once the dates become mushy, add roasted jowar flour and chopped nuts
Stir well for 2 minutes, remove from the heat and keep aside.
Grease your palm with ghee to make round shaped laddoos immediately.
Store in an airtight container
12. BANANA-PISTACHIO BITES
Ingredients:
4overripe bananas pureed
1cup besan
1/3cup ground pistachios + 1/4 cup for rolling
2tbsp brown sugar
1tbspcoconut oil
1tsp vanilla extract
Pinch of cinnamon OR cardamom and nutmeg powders
Method:
Over a medium heat, add oil to a pan. Add the flour and stir continuously as the flour roasts. Once it's all fragrant turn the heat down to low.
Add banana puree, vanilla, sugar, and the, spices and keep stirring thoroughly for a few minutes until the bananas begin to heat up and melt from the heat. Let the mixture cook for a few minutes until it starts to boil.
Take the mixture off the heat and let it cool at room temperature. Refrigerate it later.
Spread the mixture evenly, cut it into pieces and roll each piece into a round bite.
Roll the cake bites in the ground pistachios.
Enjoy every healthy bite!
13. FRUITY SANDESH
Ingredients:
1 cup paneer
1/2 cup hulled strawberries
4 tsp jaggery
2 tsp milk powder
1 tbsp. milk
Method:
Combine strawberries, 2tbsp of water and 1tsp jaggery in a pan and bring to simmer on a medium heat.
Now add this sauce to the remaining ingredients and blend to a smooth paste in a blender.
Spread the Sandesh evenly in a serving dish and chill for at least 30 minutes.
Enjoy your treat.
read also- http://livhealthylife.com/healthy-laddu-recipe-this-festive-season/