The diets of women in India are usually too poor to meet the nutritional needs of an Indian woman. A quarter of Indian women of reproductive age are undernourished, especially rural women, with a body mass index (BMI) lesser than 18.5 kg/m (Source: NFHS 4 2015-16). An undernourished mother inevitably births a malnourished baby, continuing an intergenerational cycle of undernutrition. 
Undernourished girls have a greater possibility of becoming undernourished mothers with a greater chance of birthing low birth weight babies, maintaining an intergenerational cycle.
Essential Nutritional Needs Of An Indian Woman For A Healthy Pregnancy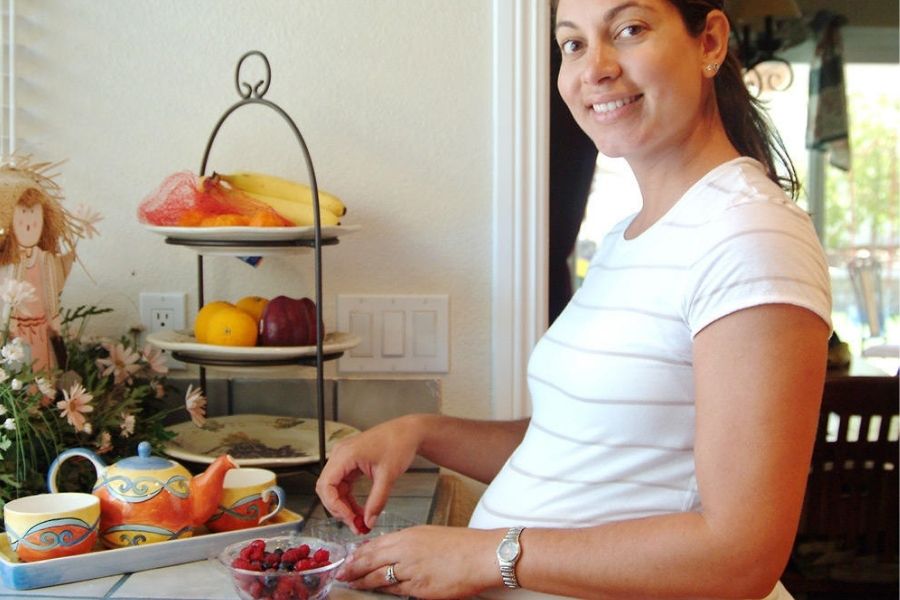 Calcium (1200 mg/day) – builds strong bones and teeth of the fetus
Iron (35 mg/day) – helps red blood cells deliver oxygen to the baby 
Vitamin A (800 ugs/day) – for healthy skin, eyesight, and bone growth 
Vitamin C (60 mg/day) – promotes healthy gums, teeth, and bones and helps your body absorb iron
Vitamin D (400 IU/day) – helps in the absorption of calcium to build a baby's bones and teeth 
Vitamin B6 (2.5 mg/day) – helps form red blood cells and allows the body to use protein, fat, and carbohydrates
Vitamin B12 (1.2 gm/day) – helps form red blood cells and maintains the nervous system
Folate Or Folic Acid (500 mcg/day) – to produce blood and protein; it also reduces the risk of neural tube defects.
Protein (78 gm/day) – for proper growth and development of the fetus, water/fluids, etc.
These are the nutrients required by pregnant women for a healthy pregnancy, but India's rural women don't have a proper diet. They need to improve their daily diet for healthy childbirth and prevent further complications in the future.
Why Am I Writing This Article?
I am a Consultant Dietitian Cum Sports Nutritionist in a Super-speciality Hospital in Bilaspur, Chhattisgarh. While working for the NABH (National Accreditation Board For Hospitals) at my hospital, I have evaluated the nutrition level of pregnant women coming from the village (Rural Area). In which I found that all pregnant women coming from the village lacks one or the other nutrient. 
Most women go to Anganwadi Kendra (Mahila And Baal Vikash Kendra) for their routine check-ups, and some women do not get regular check-ups done during pregnancy. They don't get proper treatment in Anganwadi Kendra and have some deficiencies like anemia, malnutrition, calcium deficiency, protein deficiency. I have seen their medical reports. Most rural patients have low serum protein, low amniotic fluid (due to less water intake), and many other health issues related to poor nutrition. I want that pregnant rural women get proper advice from qualified health professionals in Anganwadi Kendra and get full benefits from the government's nutrition programs.
The Reason Of Deficiency In Pregnant Women Of Rural Area Of Chhattisgarh
Chhattisgarh is called "Dhaan Ka Katora," which means that the staple food of Chhattisgarh is rice and rice products. And most of the people of the rural area of Chhattisgarh (they are all laborers, both men, and women) eat only twice a day – once in the morning between 9 am and 12 pm and then directly at night (dinner).
They don't eat breakfast. They do hard work the whole day but don't eat properly. Their main meals are rice soaked in water (stale rice) with raw onion or rice with very thin gravy vegetables (Ras wali sabzi). They have non-vegetarian foods twice a week. They eat fruits when they are sick. Otherwise, they don't eat salad, pulses, fruits, milk and milk products, etc., regularly. 
Sometimes or rarely, they have paneer (or soybean, beans, leafy vegetables, etc.) or other vegetables on their regular meals. Because of their food habits, they lack protein and other nutrients in their diet, making them deficient. 
Other Reasons Of Nutritional Deficiencies?
I came across many couples who are expecting, but they don't have proper facilities in their village. They are uneducated too and don't know about the benefit of foods or adequate nutrition and face some serious health issues and complications like low birth weight baby, cesarean delivery, blood transmission at delivery time, stillbirth (due to less water intake, etc.), premature baby, etc.
Lack of awareness is another problem for them. They don't get total profit from governmental programs specially designed to provide essential nutritional support to expecting mothers of rural areas like ICDS (Integrated Child Development Scheme), Indira Gandhi Matritva Sahyog Yojana (IGMSY), etc.  
Poverty
Financial Problems
Transportation Problems
Incomplete Medical Facilities etc.
Conclusion 
I did all these for rural pregnant women when they were admitted to my hospital. We all dietitians and health care workers need to guide the pregnant women of the rural area about proper nutrition during pre and post (during lactation) pregnancy, introduce them to new food habits, teach them about the cooking method and nutritional recipes according to foods availability at their village, etc. 
We also need to minimize deficiency symptoms, governmental programs for pregnant and lactating women, cultivate awareness in the village (especially awareness programs for Anganwadi workers who don't know about nutrition or lack knowledge about food). And to bring overall development in the nutritional pattern of villagers.