Dental Sealant is the savior in all the problems that could be faced by a tooth to be sealed. What problems, you ask. Read on to know the what, how and whys.
Dentist seal the tooth by using a material called as DENTAL SEALANT. But before elaborating on how, let us know about why do dentist have to seal the teeth? And also which cases require these intervention.
REASONS FOR PLACING DENTAL SEALANTS
Ideally brushing and flossing are the most effective ways to maintain a good oral hygiene. Certain teeth however, are more susceptible to caries formation. A few such examples are permanent molars, premolars and deciduous molars. Reasons behind that might be –
Anatomically these teeth contain fissures, grooves and pits which lead to food deposition.
The complicated morphology do not allow adequate fluorine intake hence making them more susceptible to attack by bacteria.
Furthermore, newly erupted molars have less mineralized enamel which hardens with time.
A very effective way used by dentists to protect these teeth from caries formation and further damage of tooth is sealing the occlusal surface with the help of plastic resins called DENTAL SEALANTS. It is considered as primary preventive measure by WHO.
WHAT ARE DENTAL SEALANTS?
Dental sealants are invisible plastic resin coatings that smooth out the chewing surfaces of the back teeth, making them resistant to decay. A sealed tooth is far less likely to develop a cavity.
INDICATION OF APPLYING SEALANT-
Newly erupted permanent molars in children having previous history of caries in deciduous teeth.
Deep pit and fissures observable in molars.
Children and adults both can benefit from sealants. The earlier in life they are applied, the greater protection sealants offer, but it's never too late to protect any chewing surface that is free from tooth decay with sealants.
WHEN TO AVOID USING DENTAL SEALANT?
Evidence of caries on occlusal or interproximal surfaces.
Teeth that cannot be sufficiently isolated.
Sealing margins of existing non resin restorations.
Vital dentin, which is more sensitive than enamel.
In children who are too young to cooperate during the procedure
GENERATIONS OF PIT AND FISSURE SEALANTS-
Generation of Pit and Fissure sealants include:
| | | |
| --- | --- | --- |
| GENERATIONS | DESCRIPTION | EG: |
| 1ST GENERATION | UV LIGHT CURED AT 356 nm | ALPHASEAL, NUVALITE |
| 2nd GENERATION | SELF CURE | DELTON, CONSISE WHITE SEALANT |
| 3RD GENERATION | BLUE VISIBLE LIGHT CURED AT 490 nm | STEPHEN KW STRANG |
| 4th GENERATION | FLUORIDE RELEASING | JACK TOUMBA |
HOW ARE SEALANTS PLACED?
Sealants are placed by following these simple steps –
The tooth to be sealed is carefully examined for any traces of caries formation. And if any minimal decay is found, it will be gently removed.
The tooth is then cleaned and dried.
The tooth surface is then etched by applying an etchant for better adherence of sealant
Tooth is again cleaned and dried.
Sealant is applied to teeth and then it is made to harden either by itself in certain time or with the help of curing light depending on type of sealant used.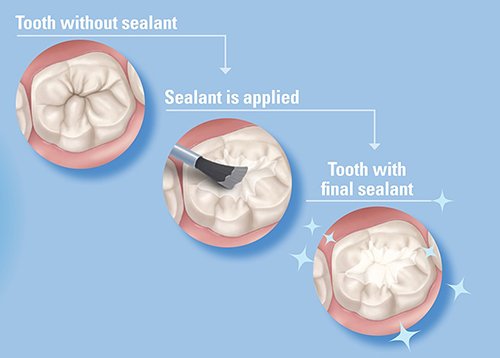 POST OP CARE OF SEALANTS-
Regular brushing and flossing should be maintained.
Regular dental checkup done every 6 months for correcting any wear and tear of sealants or occurrence of any other dental problem.
CONCLUSION
Nothing can take the place of good oral hygiene. However, taking preventive measures to stop your teeth from getting further damaged with your dentist help and a little bit of sealant's is necessary sometimes. Afterall Prevention is better than cure never goes out of style. So go, get your teeth examined soon. Stay healthy, keep smiling.