When you were young, your mother gave you a handful of almonds or raisins to munch on. And sometimes, a cup of warm milk blended with dry fruits at night. Why? Because dry fruits are loaded with essential nutrients. You would be surprised to know the health benefits and nutrition facts of these tiny sweet, dry fruits. Here, I have summarized four nutritious dry fruits for a healthy body that you should include in your daily diet.
4 Nutritious Dry Fruits For A Healthy Body
1. Walnuts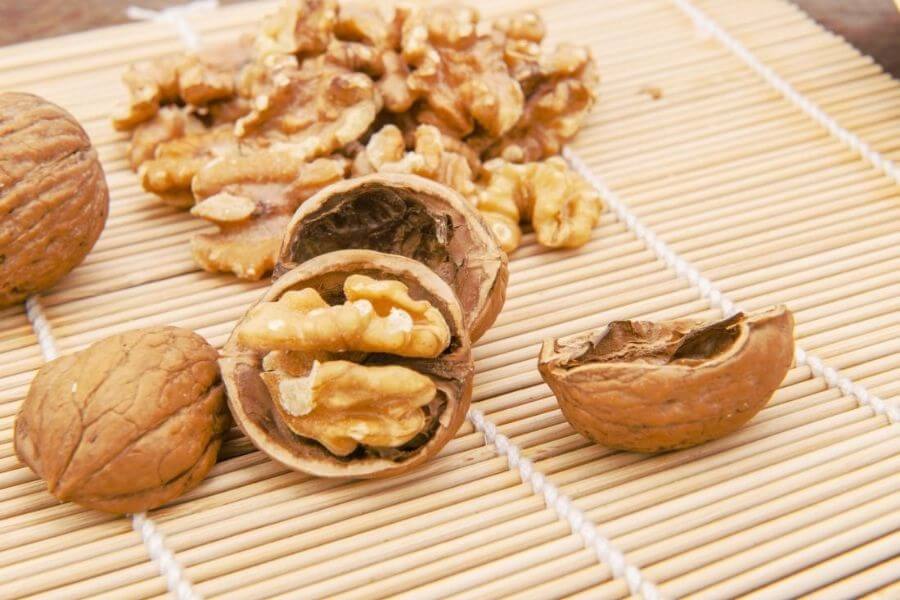 Enriched with omega 3 fatty acids, proteins, vitamins, dietary fibers, and minerals, this delightful dry fruit is very nutritious. Walnuts are the most loved nuts for its taste and health benefits. Walnuts could be easily blended or topped up on various delicious cuisines such as cakes, cookies, pasta, salads, etc. 
Health Benefits Of Walnuts
Eating a few walnuts every day could maintain a healthy brain and improves memory.  
It also provides instant energy, fights against inflammatory diseases, and boosts immunity.
The high level of omega 3 fatty acids in walnuts lowers blood pressure and enhances the production of good cholesterol, which is beneficial for a healthy heart. 
Loaded with vitamins, this crunchy dry fruit provides nourishment to the skin, delays the onset of wrinkles, and makes your skin nourished and beautiful. 
The hair oil of walnuts hydrates the scalp and strengthens the hair follicles, thus, reducing hair fall. 
Delightful Recipes Of Walnuts
Spiced Mixed Nuts
Double Nut and Date Tassies
Honey and Walnut Tart
Cranberry Nut Cookies
Cinnamon Walnut Buns
2. Pistachios
Fondly known as 'smiling nut' in Iran, the pistachios are one of the oldest nuts, loaded with essential nutrients. It has a deliciously sweet taste. You can enjoy a handful of pistachios during mid meals or as an evening snack for their health benefits. 
Health Benefits Of Pistachios
Pistachios are good for heart health, as it lowers blood pressure and prevents absorption of dietary cholesterol. 
It has the highest fiber content, which makes us feel content and full of energy for longer periods. So, it prevents over-eating and helps in weight loss. 
The significant amount of vitamin E and carotenoids present in pistachios are good for the eyes and improves vision. It also protects eyes from macular degeneration and cataracts.
It also aids in digestion due to high fiber content and prevents constipation.
Pistachios are good for brain health too. It reduces cognitive decline and combats brain inflammation.
Savory Recipes Of Pistachios
Masala Milk (Thandai)
Broccoli and Pistachio Soup
Sweet & Spicy Candied Pistachios 
Berry Pistachio Pie
Pistachio Cardamom Cheesecake
3. Raisins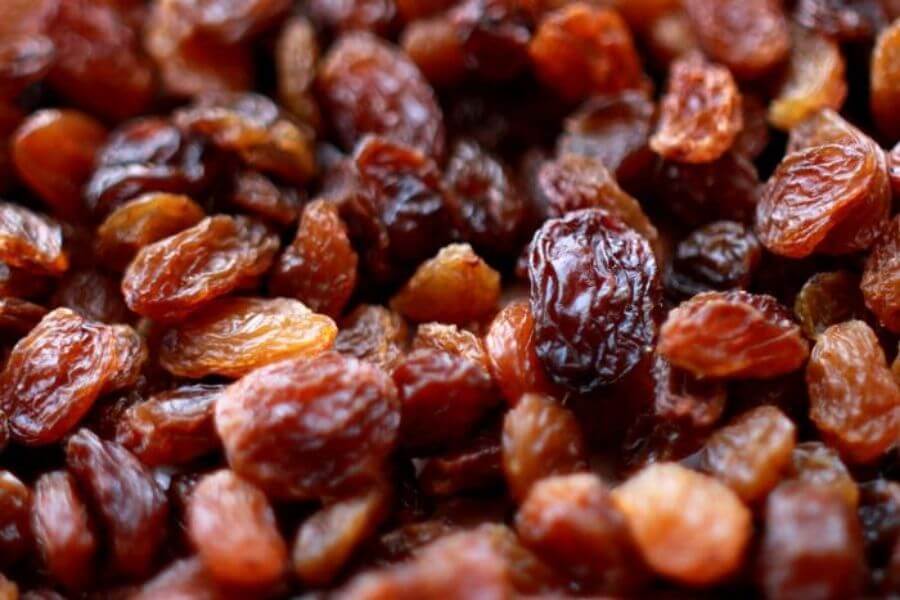 Raisins are nutritious bite-sized dry fruits, packed with vitamins, proteins, minerals, and dietary fibers. It is produced after dehydrating grapes, and so it has a delightful taste. A natural sweetener, raisins are mostly added in desserts, smoothies, salads, cookies, and cakes. This delicious dry fruit could be savored every day to reap its essential health benefits. Commonly, it is known as 'Kishmish' or 'Munakka.' 
Health Benefits Of Raisins
Raisins are rich in iron, vitamin B complex, and copper that enhances the formation of new blood cells and treats anemia.
It is good for eye health as it contains essential antioxidants, namely 'polyphenolic phytonutrients.' It protects the eyes from free radical damage and prevents the weakening of vision. Besides, raisins also have vitamin A, A-beta carotene, and A- carotenoid, which is beneficial for healthy eyes. 
These sweet, dry fruits have a high level of soluble fibers. It helps in relieving constipation and also reduces acidity.
Raisins hydrates and protects the skin from sun damage. Daily consumption of raisins could make your skin moisturized, supple, and glowing. 
Easy Recipes Of Raisins 
Oatmeal Raisin Cookies
Rice Pudding with Raisins
Carrot Resin Salad
Raisin Heart Pockets
4. Almonds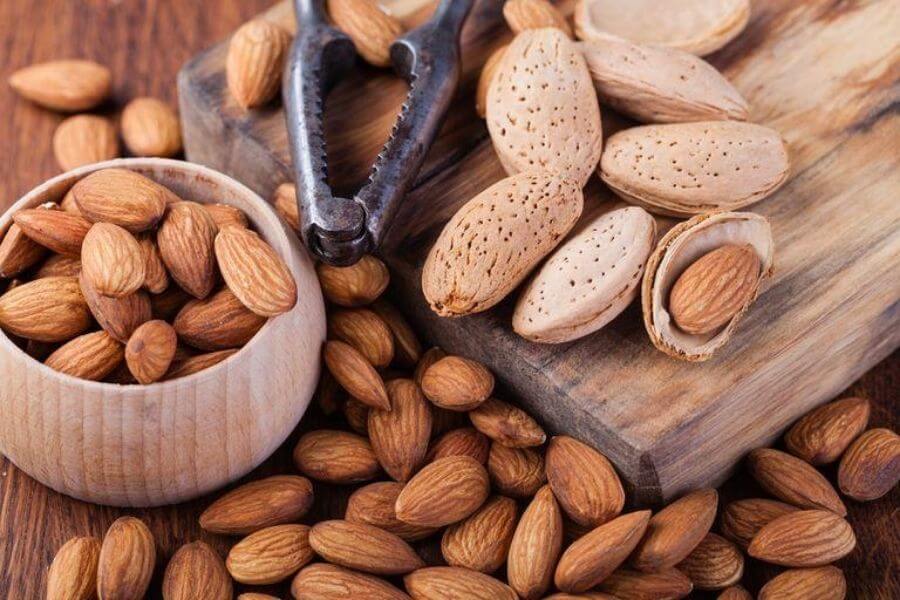 Almonds are one of the most beloved dry fruit to be served in every household. It is rich in protein, vitamins, healthy fats, and antioxidants. These tear-drop shaped dry fruits are crunchy and delicious. You can eat it raw or roasted, or try some quick and healthy recipes of almonds. 
Health Benefits Of Almonds
Enriched with monosaturated fatty acids, almonds help in controlling blood sugar levels, and diabetes.
Almonds are beneficial for healthy skin. Having abundant antioxidants, vitamins A and E, almonds moisturizes skin and prevents premature aging.
It is also good for hair. Applying almonds hair oil adds a shiny smooth texture to dry brittle hairs. 
The almonds are rich in magnesium, vitamin E, and other essential nutrients that protect the cardiovascular system.
It naturally lowers the bad cholesterol in the body, thus prevents heart diseases. Also, it helps in reducing blood pressure, that's again good to keep our heart healthy.
A handful of almonds every day could help in easy digestion prevents constipation and combats illness. 
Healthy Recipes Of Almonds
Homemade Almond Milk
Almond Butter Cookies
Spiced Almonds
Chocolate Almond Smoothie
Almonds Flour Muffins